HondaJet private jet charter
Private Jets UK arranges flights on HondaJet private jets to any part of the world. We offer over 6.900 business jets of all types and configurations. Our experts will help you choose the best option based on your route and preferences. Our company will take care of all organizational issues, such as preparation of documents and agreements, meeting at the airport, transfer, fast customs clearance, etc. We provide a full range of business aviation services, as well as concierge services. We arrange private jet flights from Great Britain and countries of Europe, Asia, America and the Middle East. For 12 years of successful work, we have managed to establish partnerships with the world's leading airlines and VIP terminals, which allows us to offer our clients the most favourable flight conditions on HondaJet jets, as well as a high level of service. The site contains only a small part of business jets available for rent.
The cost of a flight on HondaJet private jet depends on many factors: the model of business jet, the number of passengers, departure and arrival airports, type of flight, duration of parking (waiting) at the airport, additional services, etc. Therefore, we calculate the price of each order individually based on your wishes and flight details. You can also use our online calculator and get a fast price calculation by filling in all the data in the form below. Please make sure to indicate the correct contact details, as the calculation will be sent to your e-mail.
HondaJet in business aviation
"Honda Aircraft Company" is a division of the Japanese aerospace corporation "Honda", founded in 2007. The company is headquartered in Greensboro, North Carolina, USA. A parent corporation invested about $2 billion in the new business. In 2011, the airport aircraft factory, located at the Piedmont Triad International Airport, started the production of the light business jets under the brand "HondaJet". The first HondaJet took its maiden flight in 2015.
The concept of Honda's jets is based on many innovations. One of them is immediately apparent: the engines are hanged to the pylon struts fixed to the wings. Usually, they are fixed in the rear of the aircraft, and the struts occupy a large part of the fuselage. Due to the integration of the engine into aircraft wings, BJ HondaJet can boast the largest cabin in the class of very light jets (VLJ), as well as a spacious luggage compartment. In addition, such an original configuration improves the aerodynamics of the jet, makes it more efficient and reduces noise in vibration in the cabin.
A perfect fuselage and wing finishing with elegant winglets also improve the aerodynamic characteristics and speed of the twinjet. The all-composite body of the jet is made of carbon and reinforced with sandwich panels that look like a honeycomb. The use of composites allowed to reduce the weight of the structure and increase the flight range. Besides, an exceptional strength of the airframe allows the VLJ HondaJet to fly very high in a rarefied atmosphere, where the air resistance is much lower. This factor increases the speed and range of flight. The small but powerful twin turbojet engines GE Honda HF120 were designed and manufactured at the joint US-Japanese enterprise, located in Ohio, USA.
The flight deck is equipped with three 14-inch high-resolution displays and two touch-screen controllers.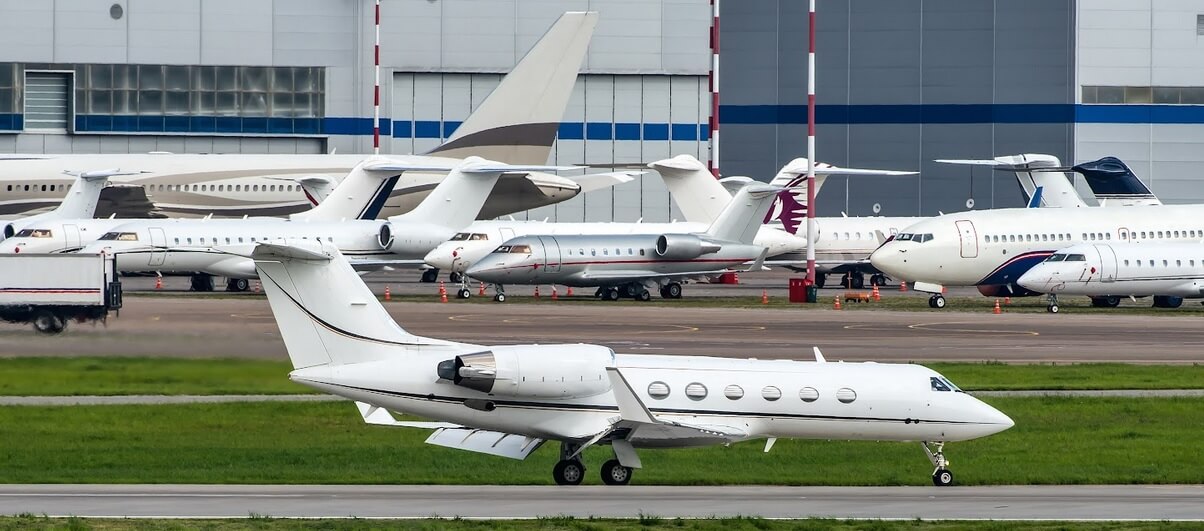 HondaJet also features outstanding cabin comfort. Japanese designers have carefully planned every detail of the cabin interiors. GE Honda HF120 is available in three different design options with a different number of seats that rotate 180°.
HondaJet designers have received several prestigious international awards and prizes for the innovation and best aircraft design. By mid-2020, 150 models of Honda HA-420 HondaJet of several modifications (including medevac jets) have been delivered to the customers.
Main characteristics of HondaJet Elite
passenger capacity: 6 seats;
wingspan: 11 m;
takeoff weight: 4.854 kg;
range: 2.660 km;
cruising speed: km/h (max – km/h);
altitude ceiling: 13 000 м.
According to experts, HondaJet Elite is superior to many comparable models from other manufacturers: Cessna Citation Mustang, Cessna Citation M2, Eclipse 500/550, Embraer Phenom 100.

Prices for domestic private flights in UK
London - Edinburgh ~ 9000 EUR (~ 7600 GBP);
London - Jersey ~ 8500 EUR (~ 7200 GBP);
London - Dublin ~ 8500 EUR (~ 7200 GBP);
London - Grenoble ~ 7000 EUR (~ 5900 GBP);
London - Birmingham ~ 8000 EUR (~ 6800 GBP);
London - Leeds ~ 6700 EUR (~ 5700 GBP);
London - Manchester ~ 8000 EUR (~ 6800 GBP);
London - Liverpool ~ 8500 EUR (~ 7200 GBP);
London - Newcastle ~ 7500 EUR (~ 6300 GBP);
London - Glasgow ~ 9500 EUR (~ 8000 GBP);
London - Bristol ~ 6800 EUR (~ 5700 GBP);
London - Southampton ~ 6200 EUR (~ 5200 GBP);
London - East Midlands ~ 6800 EUR (~ 5700 GBP);
London - Cardiff ~ 9100 EUR (~ 7700 GBP);
London - Inverness ~ 9200 EUR (~ 7800 GBP);
London - Aberdeen ~ 9800 EUR (~ 8200 GBP);
London - Gibraltar ~ 11600 EUR (~ 9800 GBP).
This is only a small part of the available routes. Please note that 92% of all UK business jets are based at the airports of London, Edinburgh, Cardiff and Belfast. However, if you want to depart from another city, we can organize a business jet flight to the airport of your choice.

Prices for international flights by private jets
London - Nice ~ 9100 EUR (~ 7700 GBP);
London - Munich ~ 9800 EUR (~ 8200 GBP);
London - Geneva ~ 7600 EUR (~ 6400 GBP);
London - Paris ~ 7500 EUR (~ 6300 GBP);
London - Geneva ~ 8500 EUR (~ 7200 GBP);
London - Zurich ~ 8700 EUR (~ 7300 GBP);
London - Ibiza ~ 12000 EUR (~ 10100 GBP);
London - Cannes ~ 9700 EUR (~ 8100 GBP);
London - Bern ~ 9200 EUR (~ 7700 GBP);
London - Malaga ~ 14000 EUR (~ 11800 GBP);
London - Milan ~ 10500 EUR (~ 8900 GBP);
London - Olbia ~ 10000 EUR (~ 8400 GBP);
London - Palma de Mallorca ~ 13000 EUR (~ 11000 GBP);
London - Rome ~ 11000 EUR (~ 9300 GBP);
London - Athens ~ 19000 EUR (~ 16000 GBP);
London - Madrid ~ 12100 EUR (~ 10200 GBP);
London - Frankfurt ~ 13000 EUR (~ 11000 GBP);
London - Barcelona ~ 14500 EUR (~ 12200 GBP);
London - Dubai ~ 62000 EUR (~ 52000 GBP);
London - Moscow ~ 40000 EUR (~ 34000 GBP);
London - New York ~ 70000 EUR (~ 59000 GBP);
London - Monaco ~ 11000 EUR (~ 9300 GBP);
London - Amsterdam ~ 10000 EUR (~ 8400 GBP);
London - Berlin ~ 9800 EUR (~ 8200 GBP);
London - Budapest ~ 12000 EUR (~ 10100 GBP);
London - Larnaca ~ 22000 EUR (~ 18500 GBP);
London - Tel Aviv ~ 24000 EUR (~ 20200 GBP);
London - Chambery ~ 12000 EUR (~ 10100 GBP);
London - Prague ~ и 9400 EUR (~ 7900 GBP);
London - Riga ~ 16000 EUR (~ 13500 GBP);
London - Malta ~ 14000 EUR (~ 11800 GBP);
London - Anguilla ~ 55000 EUR (~ 46300 GBP);
London - Bali ~ 80000 EUR (~ 67400 GBP);
London - Barbados ~ 70000 EUR (~ 59000 GBP);
London - Madeira ~ 16000 EUR (~ 13500 GBP);
London - Fiji ~ 85000 EUR (~ 71500 GBP);
London - Belize ~ 90000 EUR (~ 76000 GBP);
London - Miami ~ 70000 EUR (~ 59000 GBP);
London - Las Vegas ~ 78000 EUR (~ 66000 GBP);
London - Minsk ~ 30000 EUR (~ 25000 GBP);
London - Delhi ~ 77000 EUR (~ 65 000 GBP);
London - Doha ~ 63000 EUR (~ 53000 GBP);
London - Pattaya ~ 78000 EUR (~ 65800 GBP);
London - Bangkok ~ 90000 EUR (~ 76000 GBP);
London - Hong Kong ~ 110000 EUR (~ 93000 GBP);
London - GOA ~ 95000 EUR (~ 80000 GBP);
London - Singapore ~ 95000 EUR (~ 80000 GBP);
London - Istanbul ~ 24000 EUR (~ 20200 GBP);
London - Tokyo ~ 130000 EUR (~ 110000 GBP);
London - Toronto ~ 70000 EUR (~ 59000 GBP);
London - Johannesburg ~ 100000 EUR (~ 84000 GBP);
London - Colombo ~ 125000 EUR (~ 105000 GBP);
London - Kuala Lumpur ~ 138000 EUR (~ 116300 GBP);
London - Los Angeles ~ 75000 EUR (~ 63000 GBP);
London - Miami ~ 69000 EUR (~ 58200 GBP);
London - Macau ~ 99000 EUR (~ 83400 GBP);
London - Seychelles ~ 97000 EUR (~ 82800 GBP);
London - Maldives ~ 120000 EUR (~ 101000 GBP);
London - Virgin Island~ 89000 EUR (~ 75000 GBP);
London - Bahamas ~ 73000 EUR (~ 61500 GBP);
London - Hawaiian Islands ~ 90000 EUR (~ 76000 GBP);
This is also only a small part of the possible routes to get acquainted with the order of prices. You can get a more accurate calculation completely free of charge by contacting our aviation consultants. We can offer particularly favorable conditions for domestic flights in England, Scotland, Wales, Northern Ireland and European countries. It is possible due to the large volume of flights in these regions and favorable partnership conditions with the aircraft owners.
Online Calculator
If you want to make an urgent calculation of the cost of a private plane flight, use our online calculator. Just fill in all the fields of the form with a note that you are interested in a specific model of the aircraft and get the final price. NB! – the figures are sent to you by email or messenger, please carefully fill in the contact details to get the calculation.
All our calculations are as transparent as possible for you. After receiving the request, we will prepare a beautiful offer - where the costs and the final price will be clearly described. The exact price is agreed in advance and is written in the contract, so you can be sure of the final cost.
Stages of flight preparation
A business jet flight is carefully prepared. The whole organization of the flight consists of several stages:
Planning. At this stage, the request received from the customer is processed, the most suitable aircraft are selected, legal issues and flight safety issues are resolved;
A contract is concluded. The contract specifies the obligations of the parties, the route schedule, departure dates, and cost. The agreement is drawn up in two copies, the first remains with the air broker, the other is for the client. The payment is possible in any way that suits the customer;
Ensuring the flight. This is one of the most important stages of flight organization. The air broker coordinates the receipt of slots, submits requests to the aviation services for departure and landing, looks for suitable VIP terminals;
Flying in ideal conditions. After signing the contract, passengers of charter flights are only required to arrive at the airport on time, board, and spend time in the sky in a pleasant atmosphere.
If necessary, air brokers will arrange a transfer from the arrival airport, book a hotel or find the best accommodation in the private sector.
How to rent a business jet with a crew
Sending an application

Clarification of details and search for options

Preparation and coordination of optimal options

Registration of documents. Payment of the invoice.

Departure on the route.
Honda HA-420 series
The business jet Honda HA-420 has been produced since 2015. The model received many international awards for best design and technical innovations.
Japanese designers have creatively rethought the traditional structure of business jets and created the most unusual jet in its class (very light jets, VLJ).
Specially designed turbofan engines GE Honda HF120 are mounted on tall, narrow pylons above the wing. The over-the-wing engine mount design makes more room in the cabin and reduces the vibration and cabin noise. On the ground, you can't hear the engines at all.
The shapes of the nose and wings are very unusual. The jet has a carbon composite fuselage. The honeycomb structure and reinforced material provide the safety of the jet. The successful combination of ultralight materials, excellent aerodynamics and powerful engines increased the speed and efficiency of the Japanese jet.

The designers have carefully planned even the smallest details of the cabin interior. It can be described in just three words: luxury, comfort and cosiness. Besides, HA-420 has the quietest cabin in its class. The jet is equipped with a bathroom, a washstand and a fitted kitchen and has a spacious luggage compartment (1.9 cubic meters).
The VLJ jet is flown by one pilot, but the cockpit has a seat, a steering wheel and a dashboard for a second pilot, where a passenger can also be accommodated. HondaJet is equipped with a Garmin G3000 avionics system with high-resolution displays and dual touch-screen controllers.
Main characteristics of Honda HA-420
passenger capacity: 5-8 seats;
wingspan: 12.2 m;
takeoff weight: 4.800 kg;
cruising speed: 770 km/h;
altitude ceiling: 13.100 m;
range: 2.660 km;
takeoff run: 1.064 м;
landing run: 852 m.
Comparable jets from other manufacturers: Cessna Citation M2 (USA), Embraer Phenom 100EV (Brazil). We should note that a comparative analysis undertaken by the experts from "Business & Commercial Aviation" in 2019 showed that Honda 420 surpasses these jets in fuel consumption, noise control, cabin volume and some other indicators, including lower operating costs.

Medevac jet HondaJet Elite
"Honda" presented its new jet model HondaJet Elite, designed for the urgent transportation of VIP patients, in October 2019 at the Business Aviation Convention & Exhibition at Henderson Executive Airport near Las Vegas. This medevac business jet was purchased by "Wing Spirit", an air ambulance and charter company based in Hawaii (USA).
Novelties of the airshows
At the 2021 NBAA-BACE indoor exhibition, in Las Vegas (Nevada, USA), the Japanese company unveiled the "HondaJet 2600 Concept". "This is the world's first light jet capable of non-stop, transcontinental flight over the United States with a range of 4.862 km with a rated high-speed cruise of 830 km/h and a maximum operating altitude of 14.320 m", said Honda Aircraft Company president and CEO Michimasa Fujino. Due to the fuel-efficient engines of the new generation, this jet is over 40% more fuel-efficient than a mid-size jet during a typical mission. Due to the innovative navigation equipment and avionics, the jet can be operated by a single pilot (however, the cockpit is equipped with an extra seat). The jet can carry up to 11 people, though you'll want to limit your load to five people if you want to keep the plane at its most efficient. In this case, the rear of the aircraft can be fitted with a bed. Honda Jet has a toilet and washbasin. A galley kitchen is located in the front compartment. The guideline price for the new HondaJet is $12 million.

UK business aviation airports
Our clients have access to all airports of the UK and Europe. Due to the unique partnership conditions, we can offer our clients the best prices for business aviation services. Our experts will consult you on the availability of private jets in a particular city and help you choose the best option.
Current list of TOP 25 business aviation airports:
Airport

Country

ICAO

IATA

London Heathrow Airport
England
EGLL
LHR
Birmingham Airport
England
EGBB
BHX
London Gatwick
England
EGKK
LGW
London City Airport
England
EGLC
LCY
London Luton
England
EGGW
LTN
Edinburgh Airport
Scotland
EGPH
EDI
Leeds Airport
England
EGNM
LBA
Manchester Airport
England
EGCC
MAN
London Stansted
England
EGSS
STN
Liverpool John Lennon Airport
England
EGGP
LPL
Newcastle Airport
England
EGNT
NCL
Bristol Airport
England
EGGD
BRS
Glasgow Airport
Scotland
EGPF
GLA
East Midlands Airport
England
EGNX
EMA
Southampton Airport
England
EGHI
SOU
Jersey Airport
England
EGJJ
JER
Cardiff International Airport
Wales
EGFF
CWL
Inverness Airport
Scotland
EGPE
INV
Bournemouth Airport
England
EGHH
BOH
Airport Doncaster Sheffield
England
EGCN
DSA
Oxford Airport
England
EGTK
OXF
London Biggin Hill
England
EGKB
BQH
Belfast Airport
Northern Ireland
EGAA
BFS
Gibraltar Airport
Gibraltar
LXGB
GIB
Aberdeen Airport
Scotland
EGPD
ABZ
Additional services
Traveling on a rented business jet is convenient, fast, and comfortable. You can further improve flight conditions and safety in the sky by ordering a number of additional services, such as:
Catering – individual meals on board. The passenger can tell us the wishes for the menu, and we will fully fulfill them;
Internet - we organize a stable connection throughout the flight;
Comprehensive service in VIP halls;
Transfer at any airport on the type of transport that suits the passenger – a car, a helicopter, a yacht;
Booking hotels and luxury accommodation on the islands and with private property owners;
Treatment of the plane with anti-icing liquid.
Additional requests are discussed separately and are also prescribed in the contract. Each client of our company can count on complete anonymity and on the help of a personal manager at all stages of the organization of the flight.

How to pay for a flight and refund money for a failed flight
Payment for the aircraft lease is carried out after the signing of the contract. You can deposit cash or make a wire transfer. In some situations, an invoice is more convenient, but in any case, our company allows the client to choose the payment method that is more profitable for him/her.
If the scheduled flight is canceled at the client's request, the funds won't be returned in full. This is quite understandable since certain costs for the organization of the flight were already on the part of the air broker. However, our company tries to make sure that the client loses as little as possible. In those situations, when the lease is canceled due to our fault, which fortunately happens extremely rarely, the funds are returned in full.
You can find out all the conditions for renting business jets by phone or by sending a request to our company's email.

Book a Private Jet
We are here to assist you 24/7. You are always welcome! No matter when, why or how - whether by mail, by phone, by email, WhatsApp or live chat - you will hear from us without delay.
Catalog of HondaJet aircraft available for rent:
Showing 1 to 1 of 1 (1 Pages)