Private jet SJ30-2
Availability: Available for rent
Request aircraft information
The Emivest SJ30 is an American business jet built by Emivest Aerospace Corporation. The SJ30 has been in development since the late 1980s and has been the subject of investments and partnerships with a number of companies.
Originally developed by Swearingen as the SA-30 Fanjet, it was to be sold to Gulfstream as the SA-30 Gulfjet until Gulfstream withdrew from the project. Swearingen then received support from the Jaffe Group, and the aircraft was renamed the SJ-30 (later SJ30-1). The first SJ-30 flew on February 13, 1991. Swearingen then formed a joint venture with Taiwanese investors to form Sino Swearingen Aircraft Corporation.
Subsequently, it was decided to modify the original design as the SJ30-2, making the fuselage 4 feet 4 inches (1.32 m) longer and increasing the wingspan. The prototype was modified and flew in the new configuration in November 1996. Amid construction delays caused by funding problems, two "as designed" pre-production aircraft (serial numbers 002, performing aerodynamics/stability and handling tests; and 003, performing test system tests) and the project passed certification testing. However, in April 2003, the aircraft with serial number 002 crashed during flight testing, causing further delays in the certification program. After a number of additional design changes, S/N 004, originally intended for Functionality and Maintainability (F&M) testing, took over the role of testing S/N 002 (with S/N 005).
The SJ30 belongs to the "light" jet class and has the highest cruise speeds and longest range of any aircraft in this class. The aircraft can accommodate up to six passengers plus one pilot. A unique feature of this aircraft is that it maintains a "cabin at sea level" at altitudes up to 41,000 feet (due to a pressure differential of 12 psi), which reduces some of the effects of time zone changes on long trips.
Features:
Saloon length 3.81 m.
Interior width 1.47 m
Cabin height 1.32 m
Wingspan 12.90 m
Length of the aircraft 14,3 m
Height of the aircraft 4.34 m
Cruising speed 828 km/h
Optimal number of passengers 4
Maximum flight altitude 14935 m
Maximum takeoff weight 5987 kg
Flying range 4635 km
Maximum number of passengers (persons) 5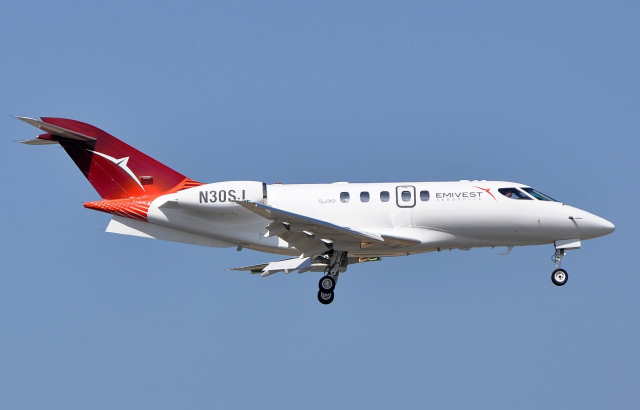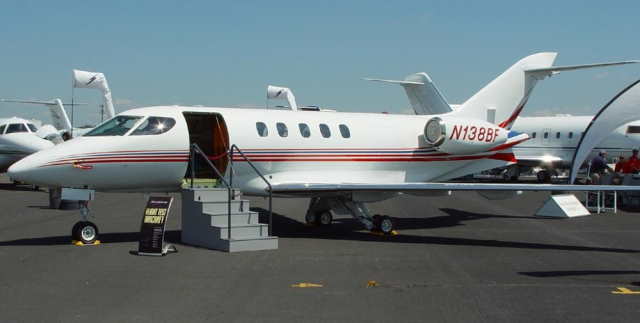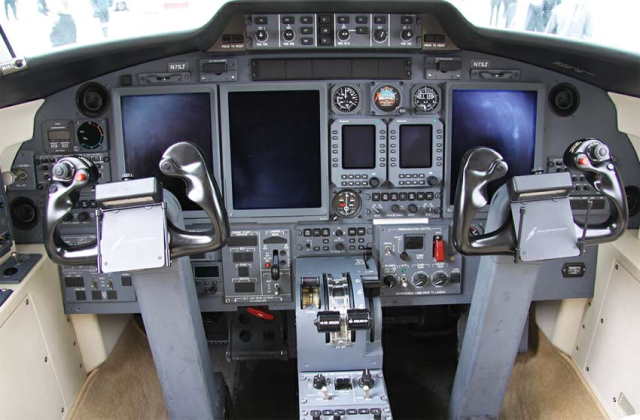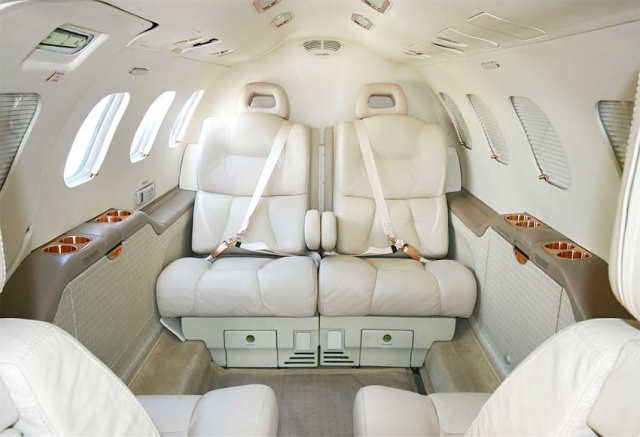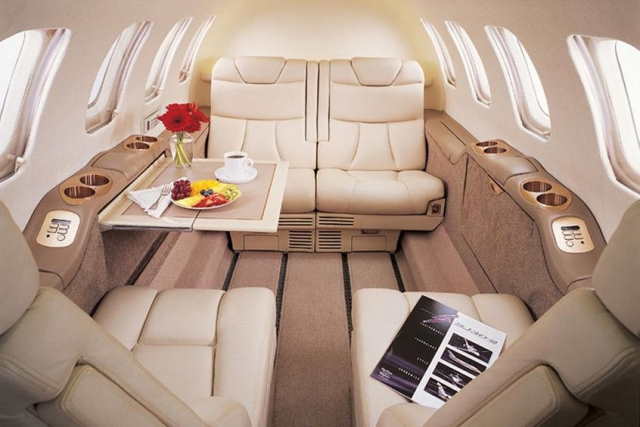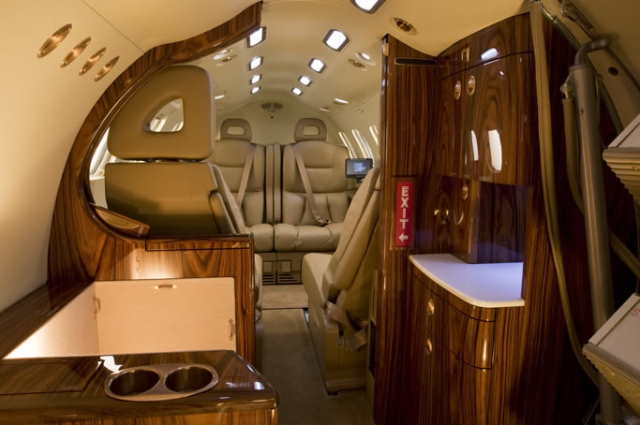 Private Jets UK operates private flights on SJ30-2. This model has established itself as a safe and reliable jet, optimal for business flights. Our experienced pilots will make your flight as comfortable and as enjoyable as possible. The company arranges both regional (within the UK) and international flights. Over 90% of flights are made to Europe and its neighboring countries. The catalog contains models of different years (including this year), but we assure you that all private jets in our database regularly undergo technical checks and maintenance. Therefore, we can guarantee the safety of your flight.
At your request, the aviation consultants of Private Jets UK will help you choose SJ30-2 with the suitable technical parameters (production year, flight hours and home base). Our experts will manage the organization of your flight- starting with paperwork, agreements, etc. and ending with a transfer and meeting at the airport. Our company provides a full range of business aviation and concierge services. Most jets depart from London, Edinburgh, Cardiff, Belfast and European countries. For 15 years of successful work, we have established partnerships with the world's largest airlines and VIP terminals, which means we can offer you the most favorable flight conditions and a high level of service.

You can calculate the cost of your flight in several ways:
using an online calculator on the website (however, it shows only the approximate price);
via Messenger (WhatsApp or Telegram);
by landline or cell phone;
via e-mail (jets@private-jets.co.uk).
Types of flights
Our company provides all types of business flights. Due to a wide variety of jets, we can arrange:
private flights;
corporate flights;
business class flights;
concert tours;
medical flights (with doctors and special equipment on board);
tourist flights for large and small groups;
sports charters for teams and coaching staff;
combined flights (partly by business jet, and partly by helicopter);
exclusive flights on luxury jets for businessmen, celebrities and politicians;
cargo flights, etc.
A flexible approach and a wide experience allow us to solve the problems of any complexity. In 90% of cases, we manage to arrange urgent flights (on the day of application). But to be sure, we recommend you to send a request at least 2-5 days before the desired date of departure.

Online calculator
To get a private jet charter quote instantly, use the online calculator on our website. Just fill in all the fields of the form indicating that you're interested in a specific model of business jet (SJ30-2) and get the final price. Note: the calculations will be sent to you by email or Messenger. Please fill your contact details carefully to get the calculations.
Please note that the stated prices are indicative, since the total cost depends on many factors, such as:
flight route;
model of the jet (production year, flight hours, equipment, etc.);
duration of parking (waiting time);
availability and number of crew members;
location of a suitable business jet;
number of passengers;
departure airports and local duties;
catering services;
availability of in-flight satellite internet;
anti-icing treatment;
insurance;
special requests, etc.
We guarantee the maximum transparency of our calculations. After receiving the request, we will send you an offer with the description of all expenditures and a final price. The exact cost will be agreed in advance and recorded in the contract.

How to book a private jet?
You can book a private jet flight on SJ30-2 in 5 easy steps:
Send us a request indicating the flight route, the number of passengers and your preferences for the jet, crew and service;
Our aviation consultant will contact you at your convenience and offer you the possible flight options;
After agreeing on all details, we will send you a final offer with the contract and all necessary documents;
Payment and signing of the contract. Preparation and transportation of a business jet to the airport of your choice;
Departure and arrival at the place of destination.
In addition to renting the private jets and arranging the flights, we provide concierge services, premium transfer, security, exclusive catering, etc. For over 10 years of experience in business aviation, we have learned to solve the problems of any complexity, offering the service of European level. Our experts will be happy to answer your questions and help you arrange your flight.
How to rent a private jet
Sending an application

Clarification of details and search for options

Preparation and coordination of optimal options

Registration of documents. Payment of the invoice.

Departure on the route.
The cost of flights on SJ30-2
Below are the prices for the flights to the most popular destinations (both within the UK and EU and worldwide). But it's important to understand that these figures are indicative only, as the total price depends on many factors (which we have mentioned above).
Prices for domestic flights in UK:
London - Edinburgh ~ 5000 EUR (~ 4300 GBP);
London - Jersey ~ 4000 EUR (~ 3500 GBP);
London - Dublin ~ 3500 EUR (~ 3000 GBP);
London - Grenoble ~ 4000 EUR (~ 3500 GBP);
London - Birmingham ~ 3000 EUR (~ 2600 GBP);
London - Leeds ~ 2700 EUR (~ 2300 GBP);
London - Manchester ~ 4000 EUR (~ 3400 GBP);
London - Liverpool ~ 4500 EUR (~ 3800 GBP);
London - Newcastle ~ 3500 EUR (~ 3000 GBP);
London - Glasgow ~ 4500 EUR (~ 3800 GBP);
London - Bristol ~ 3800 EUR (~ 3200 GBP);
London - Southampton ~ 3200 EUR (~ 2800 GBP);
London - East Midlands ~ 3800 EUR (~ 3200 GBP);
London - Cardiff ~ 4100 EUR (~ 3500 GBP);
London - Inverness ~ 5200 EUR (~ 4500 GBP);
London - Aberdeen ~ 4800 EUR (~ 4100 GBP);
London - Gibraltar ~ 9600 EUR (~ 8200 GBP).
This is only a small part of the available routes. Please note that 92% of all UK business jets are based at the airports of London, Edinburgh, Cardiff and Belfast. However, if you want to depart from another city, we can organize a business jet flight to the airport of your choice.

Prices for international flights:
London - Nice ~ 7100 EUR (~ 6100 GBP);
London - Munich ~ 6800 EUR (~ 5800 GBP);
London - Geneva ~ 6600 EUR (~ 5600 GBP);
London - Paris ~ 5500 EUR (~ 4700 GBP);
London - Geneva ~ 7500 EUR (~ 6500 GBP);
London - Zurich ~ 7700 EUR (~ 6600 GBP);
London - Ibiza ~ 11000 EUR (~ 9500 GBP);
London - Cannes ~ 9700 EUR (~ 8300 GBP);
London - Bern ~ 8200 EUR (~ 7000 GBP);
London - Malaga ~ 12000 EUR (~ 10300 GBP);
London - Milan ~ 9500 EUR (~ 8100 GBP);
London - Olbia ~ 10000 EUR (~ 8600 GBP);
London - Palma de Mallorca ~ 11000 EUR (~ 9500 GBP);
London - Rome ~ 10000 EUR (~ 8600 GBP);
London - Athens ~ 15000 EUR (~ 12900 GBP);
London - Madrid ~ 8100 EUR (~ 6900 GBP);
London - Frankfurt ~ 11000 EUR (~ 9500 GBP);
London - Barcelona ~ 8500 EUR (~ 7300 GBP);
London - Dubai ~ 62000 EUR (~ 53000 GBP);
London - Moscow ~ 23000 EUR (~ 19700 GBP);
London - New York ~ 70000 EUR (~ 60200 GBP);
London - Monaco ~ 8000 EUR (~ 6800 GBP);
London - Amsterdam ~ 10000 EUR (~ 8600 GBP);
London - Berlin ~ 7000 EUR (~ 6000 GBP);
London - Budapest ~ 9000 EUR (~ 7700 GBP);
London - Larnaca ~ 13000 EUR (~ 11000 GBP);
London - Tel Aviv ~ 20000 EUR (~ 17200 GBP);
London - Chambery ~ 9000 EUR (~ 7700 GBP);
London - Prague ~ 6400 EUR (~ 5500 GBP);
London - Riga ~ 9000 EUR (~ 7700 GBP);
London - Malta ~ 10000 EUR (~ 8600 GBP);
London - Anguilla ~ 55000 EUR (~ 47300 GBP);
London - Bali ~ 50000 EUR (~ 43000 GBP);
London - Barbados ~ 60000 EUR (~ 51600 GBP);
London - Madeira ~ 16000 EUR (~ 13600 GBP);
London - Fiji ~ 55000 EUR (~ 47000 GBP);
London - Belize ~ 70000 EUR (~ 60000 GBP);
London - Miami ~ 60000 EUR (~ 51000 GBP);
London - Las Vegas ~ 70000 EUR (~ 59800 GBP);
London - Minsk ~ 10000 EUR (~ 8500 GBP);
London - Delhi ~ 57000 EUR (~ 48700 GBP);
London - Doha ~ 43000 EUR (~ 36700 GBP);
London - Pattaya ~ 70000 EUR (~ 60000 GBP);
London - Bangkok ~ 72000 EUR (~ 61500 GBP);
London - Hong Kong ~ 80000 EUR (~ 68000 GBP);
London - GOA ~ 75000 EUR (~ 64000 GBP);
London - Singapore ~ 95000 EUR (~ 81000 GBP);
London - Istanbul ~ 17000 EUR (~ 14500 GBP);
London - Tokyo ~ 100000 EUR (~ 85500 GBP);
London - Toronto ~ 50000 EUR (~ 42700 GBP);
London - Johannesburg ~ 100000 EUR (~ 85500 GBP);
London - Colombo ~ 95000 EUR (~ 81000 GBP);
London - Kuala Lumpur ~ 98000 EUR (~ 83700 GBP);
London - Los Angeles ~ 70000 EUR (~ 60000 GBP);
London - Miami ~ 59000 EUR (~ 50400 GBP);
London - Macau ~ 90000 EUR (~ 77000 GBP);
London - Seychelles ~ 77000 EUR (~ 65800 GBP);
London - Maldives ~ 70000 EUR (~ 60000 GBP);
London - Virgin Islands ~ 59000 EUR (~ 50500 GBP);
London - Bahamas ~ 63000 EUR (~ 54000 GBP);
London - Hawaiian Islands ~ 90000 EUR (~ 77000 GBP);
This is also only a small part of the possible routes to get acquainted with the order of prices. You can get a more accurate calculation completely free of charge by contacting our aviation consultants. We can offer particularly favorable conditions for domestic flights on SJ30-2 in England, Scotland, Wales, Northern Ireland and European countries. It is possible due to the large volume of flights in these regions and favorable partnership conditions with the aircraft owners.

Jet Sharing
Today, Jet Sharing is just as popular as private jet charter. This service involves the joint rental of a business jet with other passengers (that is, the cost of the flight is divided equally between all passengers of a specific flight). This type of flight has become especially popular in the last few years. Many people like Jet Sharing because it allows you to enjoy all benefits of business aviation at favorable prices.
We should note that the number of passengers per Jet Sharing flight varies from 3 to 8, while the cost of the flight ranges from 1200 to 5000 pounds (depending on the destination). This way, you can get a comfortable flight on a business jet SJ30-2 (and maybe even meet new business partners) at a very good price. You can check out the schedule of Jet Sharing flights by filling in the online form or contacting our operators by phone or WhatsApp.
Main advantages of this service:
All privileges of business aviation, including the use of the business aviation terminal and the check-in 30 minutes before the flight, are retained;
You can also use the services of the VIP Lounge (included in the price of the flight);
No baggage restrictions;
Affordable price: jet sharing is much cheaper than private jet charter;
Pets can be carried directly in the aircraft cabin.

Price examples for Jet Sharing flights:
London - Milan, 5 passengers, from 3000 €;
London - Geneva, 4 passengers, from 3200 €;
London - Nice, 6 passengers from 2800 €;
London - Moscow, 5 passengers from 3500 €;
London - Paris, 7 passengers from 3000 €.
Our consultants will be happy to help you choose the best flight.
Empty Leg flights
Another way to fly cheaper is to use Empty Legs. This service allows you to save on regular charter rates. As you know, some of the flights are one-way (for example, when the passenger flies from England to France). After the flight, SJ30-2 returns to its home base (for example, to London Heathrow airport) empty. Such a flight is called "Empty Legs". Empty leg flights can be as cheap as 50-75% off the standard charter price. This option is profitable for both the passengers and the charter companies. The clients can enjoy the services of business aviation at a very good price, while the airlines recoup part of the cost of fuel and jet maintenance.
You should know that Empty Leg flights offer the same service as private jet charters. The passengers enjoy 100% private jet flying experience. Additional services and flight conditions are discussed individually. We should note that our company cooperates with the world's largest home bases, so we can offer our clients a wide choice of return flights. Just send a request to our manager who will help you find the best flight options.

Flight payment options
The main goal of our company is to provide the highest level of comfort to our customers. Therefore, we're always ready to meet you halfway. Our consultants will offer you a wide variety of flights to meet your needs and budget. Most customers prefer non-cash method (a transfer to a EU bank account), which guarantees a high level of confidentiality and security of payment. All payment details are provided in advance, so you'll have enough time to make the necessary checks. For years of working in business aviation, our company has gained an impeccable reputation. We practice transparency and are always ready to present all necessary documents.
Private Jet UK works with both physical and legal entities. We guarantee the confidentiality and security of payments. You can pay for the flight in any convenient way:
cashless (by transfer to our account);
by cash;
by card;
by cryptocurrency.
Our company works with European and British banks, which allows you to choose the most convenient payment method. In addition, we conclude formal agreements and provide our clients with all necessary documents and invoices, which guarantees the safe payment and delivery of services. If you have any financial questions, feel free to contact our private aviation consultants.
If you need to book an urgent flight, please keep in mind that the bank transfer can take a few days. In such situations, we may need to involve our partner companies so that you can pay for your flight in cash. If you have any questions, you can contact your personal consultant 24/7.

Booking SJ30-2 for a private flight
You can get an instant quote and book the flight on SJ30-2 by filling in a special form on our website. Just fill in the contact information, and our manager will contact you as soon as possible to specify the details of the flight. We will be glad to help you!